CellarPro 1800XT 220V 50/60 Hz Cooling Unit #1130




1373 BTUH @ 50Hz/15°C.
CellarPro 1800XT-220V cooling units (1/6 Ton Nominal @ 50Hz) provide outstanding performance, adjustable humidity control, super-quiet operation and extra cooling power for use in 220V/1PH environments.

1800XT-220V units can be used with both 50-Hz and 60 Hz 220V power, and are significantly quieter than comparable units. Performance testing shows that this compact unit maintains optimal cellar temperature and humidity conditions, even in tough environments. Visit our Learning Center for data tables, performance charts and product comparisons among different brands.

This unit can be used in North America as well as in overseas markets.

(5)
Read / Add Reviews
Price: $1,450.00
Shipping Information:
FedEx / USPS / Saver
Availability: In Stock


Usually Ships w/i 2-3 Days
Back in stock:
Free Shipping! Exclusively for our retail customers, receive free Inside Delivery to a ground floor in the lower 48 states for a limited time. Simply add to your cart and checkout.
CellarPro 1800XT-220V Cooling Unit (P/N 1130). CellarPro engineered the 1800XT-220V cooling unit to maintain
ideal temperature and humidity conditions
in geographies that use 220V / 1 Phase power (50 or 60 Hz).
All air-cooled refrigeration equipment requires fresh air intake to dissipate the heat generated by the cooling unit. The fresh air intake CANNOT come from the wine cellar space - it must come from space outside the cellar. Designed for indoor use only, 1800XT-220V units can operate in environments ranging from 35C to 4C out of the box. To operate the unit in colder temperatures, please see modifications listed on the
Options & Upgrades
tab.
This unit offers a choice of top or rear hot exhaust.
Adjustable humidity control combines a high-output compressor with flexible fan cycles to maintain a recommended level of moisture inside your cellar.
Extra-large coils generate maximum cooling power.
Commercial-grade Electrofin coating protects the evaporator coils from leaks and corrosion.
Intuitive LED display panel mounted on the evaporator with digital programmable thermostat is simple and easy to use. Remote thermostat is available as an upgrade.
Energy-saver mode, quick-chill mode, and auto-defrost cycle provide convenient solutions to common cellar needs.
Unit operates with minimal vibrations and less noise (46 dBA @ 50Hz and 50 dBA @ 60Hz).
Audible and visual alarms and maintenance-needed indicator protect the cooling unit and the wine cellar.
10-foot power cord exits from the rear .
Removable steel case provides access to the internal components for servicing and repair.
CellarPro's 2-Year Standard Warranty, the most thorough in the industry, protects the unit against manufacturing defects.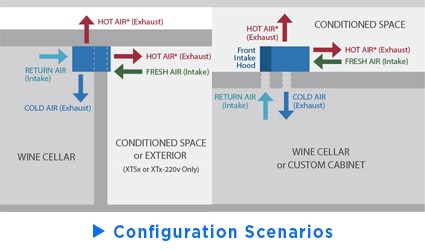 Configurations
This unit offers a choice of top or rear hot exhaust.
The 1800XT requires fresh air intake at the rear of the cooling unit.
You must located this unit within the cellar, with the following exception: these units can be installed directly above the wine cellar when used with our front intake hood.
The top and rear of this unit, where the hot air exhaust and fresh air intake occur, were not designed to be ducted.
For installation in environments below 40F, our compressor heater modification is required.
For installation in environments below 20F down to -20F, we recommend our Fan-Cycling Switch (P/N 6972) combined with our compressor heater.
A CellarPro cooling unit must always be used in the upright position, and should never be operated on its side or upside down.

Cold Temperature
Duct Hoods
Remote Control & Probe
Other Options & Upgrades
How cold can the temperature be where the cooling unit is installed?
A: For installations in environments below 40°F down to 20°F, we recommend adding our compressor heater (P/N 1727), which is included as standard equipment on all outdoor units. Below 20°F, in addition to the compressor heater, we recommend adding our fan cycling switch (P/N 6972)
How do I choose between top exhaust versus rear exhaust? What about the fresh air intake?
The fresh air intake will always come from the rear of the cooling unit, and must pull air from OUTSIDE the wine cellar space - it must never be installed to pull air from inside the cellar. On 1800 Series cooling units, the hot air exhaust can exit from the top or the rear. Choose whichever configuration directs the exhaust to a space that is sufficiently large to accept the exhausted air, as long as the exhaust goes OUTSIDE the cellar and will NOT intermingle with the fresh air intake. If you plan to duct the hot side of the cooling unit, then the hot air will need to exhaust from the rear.
Does the unit really need a dedicated circuit?
A: First, the background. Unlike our competitors, we build our cooling units with precision expansion valves, not cap tubes, which means that our cooling units aren't limited to a 30°F differential between the desired cellar temperature and the ambient temperature. Cooling systems with expansion valves are much more precise than cap tubes, and much more sensitive to low voltage conditions, which is why our units require dedicated circuits. When we say "dedicated circuit", we mean that the circuit shouldn't have any items that require heavy draws of electricity - eg other appliances, vacuum cleaners, big-screen TVs, blow-dryers - on the same circuit as the cooling unit. Lighting, computers or other low-draw items shouldn't be a problem on the same circuit.
Can the cooling unit be located in a remote location and ducted to/from the wine cellar?
A: These cooling units can be installed above the wine cellar when used with our front intake hood.
Do I need the condensate drain line?
A: If you are using the cooling unit in a sealed cabinet, you probably don't need the drain line. If you are using the cooling unit in a cellar, we recommend the drain line, which can be drained inside (bottom) or outside (rear) the wine cellar.
CELLARPRO 1800XT-220V COOLING UNIT |
Peter
Auckland, NZ
11/13/2013
Kiwi Wine O
Great unit, works a treat . The guys at cellarpro picked up my mistake when I ordered a 115 volt model instead of the 220 volt . Thanks guys - awesome service, fast delivery. My wine happily resting...
Allan
New Zealand
9/11/2011
1800 XT 220 - Down Under
I have now been running my 1800XT-220 for 3 weeks and it meets all my expectations plus more. The unit is quiet and keeps my cellar cool to within a 1.5 degree temperature range. The unit not only looks nice but it does exactly what they said it would do. My cellar is just under 7 sq meters and has a capacity of about 500 bottles. I made sure that the walls were fully insulated to R4 rating and I have double glazed glass windows. The ceiling is a double layer of R3 batts plus R1.9 foil. I also have a solid door with R1.9 foil covered with wood panel plus tiles on a concrete slab . Right now its going into autum and the units runs for about 20 mins each hour. (Time will tell about summer). The replies from Cellar Pro to my email questions were prompt and informative - very good customer service. I would recommend the unit over ones sold locally in Australia. Even with the freight costs – its better value with the high aussie dollar.
Bruce
Sydney, Glenwood, Australia
5/22/2011
1800 XT - 220V
The 1800 has been installed for a week now and is performing very well in the current warm and humid conditions. The unit is easy to adjust and the instructions in the Operator's Manual are easy to follow; however, a "centigrade" version of the Manual would make it even easier. I reviewed the units available in Australia and found they were overkill for my compact (6 M3) cellar. They were also considerably more expensive that the 1800 even when transport and import cost were taken into account. CellarPro was most helpful during the sales process and the FedEx delivery service could not have been better. Arrived in 8 days after dispatch.
Bluey Golding
Sunshine Coast, Queensland, Australia
3/16/2011
1800XT
After looking at several models finally chose the 1800. Even after freight costs and import costs to Australia this was a well priced unit. Great advice from CellarPro and delivery was 7 days only! Works as advertised, easy to use panel, quiet, very well built and looks good. Works a treat and would recommend to any one setting up a small wine cellar
Rory Byrne
Tasmania, Australia
1/10/2011