CellarPro 4200VSi-ECX Cooling Unit #1079




3938 SENSIBLE BTUH @ 55F.
CellarPro's 4200VSi-ECX cooling units (2/5 Ton Nominal) are engineered for wine cellars up to 1,000* cubic feet in both commercial and residential wine cellars.

Performance testing shows that this unit maintains optimal cellar temperature and humidity conditions in extreme conditions up to 110F, and are significantly quieter than comparable units from other brands. Now with energy-efficient EC fans for better performance! Visit our Learning Center for data tables, performance charts and product comparisons among different brands.

*Assuming R19 insulation throughout the cellar, 55F inside the cellar and 85F outside the cellar. Cold-side ducting, glass and/or uninsulated walls, extreme humidity, altitude and other factors may affect the sizing calculation.

Our cooling units are designed to be used in properly-constructed wine cellars that are adequately insulated, airtight and sealed with a vapor barrier. In improperly-constructed cellars, the cooling unit will create excess condensation, leading to damage and premature failure of your cooling unit (not covered by warranty).

(42)
Read / Add Reviews
Price: $4,195.00
Shipping Information:
LTL Truck / Curbside
Availability: On Backorder


Usually Ships w/i 3-5 Days
Back in stock: 6/28/2022
Free Shipping! Receive free curbside delivery in the lower 48 states for a limited time. Simply add to your cart and checkout.
CellarPro 4200VSi-ECX Cooling Unit (P/N 1079).
NOW WITH ENERGY-EFFICIENT EC FANS!
CellarPro engineered the 4200VSi-ECX cooling unit to provide maximum cooling power and adjustable humidity control for cellars up to 1,000 cubic feet. Designed for internal installations, 4200VSi-ECX units are built with high-output Danfoss compressors and oversized coils for maximum performance in high-temperature environments up to 110F. These units also feature variable-speed fans with a low setting for super-quiet operation when conditions permit.
All air-cooled refrigeration equipment requires fresh air intake to dissipate the heat generated by the cooling unit. The fresh air intake CANNOT come from the wine cellar space - it must come from space outside the cellar. The unit can be remotely located and ducted to/from the cellar using our cold-side duct hood, or located through a cellar wall (with or without a decorative grill - not included.)
Now with energy-efficient EC Fans on both the cold and hot sides, save $191.58 in annual energy costs vs AC fans (assumes 75% runtime and $0.15/kWh)
This unit can be configured to operate in extreme temperature conditions (-20 to 110F). If the unit's location does not provide sufficient room for airflow, you may need to purchase a rear duct kit.
Dual high-output centrifugal fans come with variable speed settings for your choice of maximum cooling power at the high fan speed, or super-quiet operation (53.7 decibels) at the low fan speed.
Adjustable humidity control combines a high-output compressor with flexible fan cycles to maintain a recommended level of moisture inside your cellar.
Extra-large coils generate maximum cooling power inside the cellar.
Excess condensate is managed with a high-capacity stainless steel drain pan, welded 1/2" drain line and 200W electric heating element with "On/Off" Control.
Commercial-grade Electrofin coating protects the evaporator coils from leaks and corrosion.
Intuitive LED display panel mounted on the evaporator with digital programmable thermostat is simple and easy to use. Remote thermostat is available as an upgrade.
Energy-saver mode, quick-chill mode, and auto-defrost cycle provide convenient solutions to common cellar needs.
Temperature set point range is 47F to 62F when the cooling unit is properly sized.
Unit operates with minimal vibrations and less noise than comparable units from competitors.
Audible and visual alarms and maintenance-needed indicator protect the cooling unit and the wine cellar.
Common dedicated 15-amp circuit is required to power the unit.
With dual power sources and a 10-foot power cord, the unit can be plugged into a receptacle from either the front or the rear of the cooling unit, providing flexibility for most installations.
Our easy-access disposable air filter protects the condenser coils and increases the expected useful life of the cooling unit.
Adjustable mounting brackets, included as standard equipment, ensure easy installation.
Removable steel case and refrigerant access valve provides access to the internal components for servicing and repair.
CellarPro's 5-Year Standard Warranty, the most thorough in the industry, protects the unit against manufacturing defects.
An optional Extended Warranty (P/N 1836) is available for additional protection.
ETL Tested and Certified to rigorous UL Standards for safety.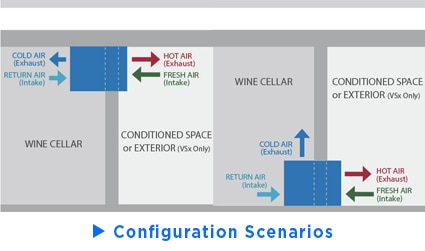 Configurations
CellarPro 4200VSi-ECX units are self-enclosed, fully-charged units designed to be installed through-the-wall and sized to fit in between standard wall studs.
4200VSi-ECX units also can be located remotely from the cellar with the addition of one of our front duct packages. Offered with or without insulated flex ducting, in a choice of configurations for low or high humidity conditions, our front duct packages allow these cooling units to be ducted up to 50 equivalent feet away from the cellar and requires 8-inch (or greater) ducting from start to finish.
When calculating equivalent feet, each 90-degree turn counts for 8 feet.
For remote or inaccessible installations, we offer a remote control display kit which is wired to the cooling unit and allows the digital display to be mounted inside or outside the cellar.
4200VSi-ECX units require fresh air intake at the rear of the cooling unit. If sufficient space does not exist to provide sufficient airflow to the rear of the cooling unit, you may need our rear duct kit.
4200VS Series cooling units can be installed completely inside the wine cellar when used with our rear duct kit, which allows you to duct the supply and return airflows from the rear of the cooling unit up to 100 equivalent feet (50 feet per duct).
For installation in environments below 40F, 4200VSi-ECX units require our Compressor Heater (P/N 1727) .
For installation in environments below 20F down to -20F, we recommend our Fan-Cycling Switch (P/N 6972) combined with our compressor heater.
The front of the cooling unit should never be exposed to temperatures below 32F.
A CellarPro cooling unit must always be used in the upright position, and should never be operated on its side or upside down.
We ship these units strapped to a pallet via common carrier with curbside delivery. Inside delivery is available for an additional charge.
Capacity:

3938 BTUH @ 55F

Size:

14 1/10w x 25 1/10d x 19 3/5h (in)

Weight:

155

lb

Power/Rating:115V AC / 60 Hz
Compressor Amps:
- Common dedicated 15-amp circuit is required to power the unit.
- Startup: 42.0 Amps
- Unit Amp Rating: 10.5 Amps (high fan speed)
- Total Watts: 578 (med fan speed)

BTUH @ 55F / Decibels:
- Low Fan Speed: 3282 / 54 dBA
- Medium Fan Speed: 3617 / 59 dBA
- High Fan Speed: 3938 / 67 dBA
- 1/2 Ton Nominal
Warranty:
- Warranty Overview
- Limited Warranty - 2 Years (Entire System) / 5 Years (Compressor)
- Optional Extended Warranty (sold separately).
SKU:

noinfofound

UPC:

077757010798

Click on one of the following links for more information:

Cold Temperature
Compressor Heater #1727: protects the unit when installed in environments that drop below 40F down to 20F.
Fan Cycling Switch #6972: supports the unit in temperatures below 20F and as low as -20F when combined with our compressor heater.

Duct Hoods
Duct Hoods (Cold Side) (#7408 for low-humidity environments or #7427 for high-humidity environments) and Kits (#1476 for low-humidity environments or #7426 for high-humidity environments): permits the cooling unit to be located remotely, up to 50 equivalent feet away from the cellar using 8" diameter ducting.
Duct Hood (Hot Side) #7407 and Kit #1113: allows you to install the unit completely inside your cellar or in a small space with limited airflow, up to 100 equivalent feet (50 feet per duct) using 8" diameter ducting.
Duct Kits are the same as Duct Hoods, and also include 2 x 25-feet of 8-inch insulated (R-6) flex ducting.

Extended Mounting Bracket
For retrofit installations where the wall opening is too big for our cooling unit, use our Extended Mounting Bracket on one or both sides to plug the opening.

Filters & Grills
Use our filter & grill guide to find the cooling unit filter or duct filter and/or duct grill that is appropriate for your cooling unit.

Remote Thermostats, Displays & ProbesDID YOU KNOW?
Nobody protects your wine cellar better than CellarPro Cooling Systems! In the event your cooling unit fails and the failed components are covered by our warranty, we'll send a replacement cooling unit to you per the terms of our
Replacement Unit Program
CellarPro Replacement Unit Program
If your CellarPro cooling unit fails and the parts that failed are still covered by warranty, we'll send a replacement cooling unit to you, as follows:
Your cooling unit must be registered at CellarPro
Your cooling unit must have been properly sized, installed and maintained
Your cooling unit may not have been permanently modified, damaged or disfigured
Please note:
Replacement units are factory-refurbished cooling units with a similar build date as your original unit
You are responsible for the shipping cost to send the replacement unit to you and return the original unit to us, and the cost (if any) to remove the original unit and install the replacement unit
In order to send a replacement unit, we require a deposit, which will be refunded minus shipping costs upon the return and pending the inspection of the original unit
If the original unit failed due to improper intallation or use, the failure is not covered by warranty and we will deduct the cost of the repairs from the refund of your deposit
What is "Sensible BTUH"?

A: You should always use Sensible BTUH* when comparing different brands of cooling units, and when sizing a cooling unit for your wine cellar. Every cooling unit produces a certain amount of Total BTUH, which is the sum of Sensible BTUH (lowers the temperature) and Latent BTUH (lowers the relative humidity). Because our goal is to cool wine cellars while preserving humidity, wine cellar cooling units should have high Sensible BTUH and low Latent BTUH. The relationship between Sensible and Latent BTUHs is know as SHR (Sensible Heat Ratio), which is calculated as Sensible BTUH/Total BTUH. The SHR for CellarPro cooling units is greater than 90%, which means that CellarPro units provide maximum cooling power without stripping out humidity from the cellar environment.

*CellarPro Sensible BTUHs are calculated assuming 55F cellar temperature, 60% relative humidity and 95F ambient for all units except 1800 units (85F ambient).

How cold can the temperature be where the cooling unit is installed?

A: For installations in environments below 40F down to 20F, we recommend adding our compressor heater (P/N 1727), which is included as standard equipment on all outdoor units. Below 20F, in addition to the compressor heater, we recommend adding our fan cycling switch (P/N 6972)

Can the cooling unit be located in a remote location and ducted to/from the wine cellar?

A: These cooling units can be ducted up to 50 equivalent feet away from the wine cellar when used with our cold-side (front) duct hoods and kits. Remember that cold-side ducting must be insulated and additional load should be added to properly size the required cooling unit.

Does the unit really need a dedicated circuit?

A: First, the background. Unlike our competitors, we build our cooling units with precision expansion valves, not cap tubes, which means that our cooling units aren't limited to a 30F differential between the desired cellar temperature and the ambient temperature. Cooling systems with expansion valves are much more precise than cap tubes, and much more sensitive to low voltage conditions, which is why our units require dedicated circuits. When we say "dedicated circuit", we mean that the circuit shouldn't have any items that require heavy draws of electricity - eg other appliances, vacuum cleaners, big-screen TVs, blow-dryers - on the same circuit as the cooling unit. Lighting, computers or other low-draw items shouldn't be a problem on the same circuit.

Can I install the entire unit inside the cellar?

A: These cooling units can be installed completely inside the wine cellar when used with our hot-side (rear) duct hoods and kits, which allow rear supply and return airflows from a temperature controlled environment OUTSIDE the cellar to be ducted (with insulated ducting to minimize heat transfer inside the cellar) up to 100 equivalent feet (50 feet per duct).

If I don't have sufficient space behind the cooling unit, is that Ok?

A: The rear of the cooling unit generates hot air that must have sufficient space to dissipate, otherwise the unit will recycle its own hot air. The hot air exhaust and/or intake can be ducted to another location with our rear duct hoods and kits, which allow rear supply and return airflows from a temperature controlled environment OUTSIDE the cellar to be ducted (with insulated ducting to minimize heat transfer inside the cellar) up to 100 equivalent feet (50 feet per duct).

Can I use the low fan speed setting on the cooling unit when the unit is ducted?

A: Duct hoods and kits create additional static pressure and therefore require the use of the high fan speed to overcome the additional static pressure.
CellarPro 4200VSi
Uwe Schnack
White Rock, BC, Canada
12/26/2021
CellarPro 4200VSi-ECX Popping Noise
Recently purchased a CellarPro 4200VSi-ECX Cooling Unit. Runs great, very quiet. My only concern is that every so often I hear a popping noise from the unit, like water on a hot skillet. Is that normal?

Reply from CellarPro
John, thank you for your feedback. When condensate drips into the drain pan, you will hear the water sizzle if the Evaporator is "on". To stop the sizzling sound, you can turn "off" the Evaporator. Regardless, you definitely should check all walls and seals in your cellar to make sure that they're airtight, which will minimize condensation after the initial pull down.
John Spivak
Garnet Valley, PA
9/5/2021
Breezaire Replacement
When my 15 year old Breezaire died after 15 years, I might have replaced it with another one, but the customer service at Breezaire is slipshod at best. The CellarPro folks really wanted to be helpful and, I am happy to report do in fact make a more robust and higher quality product. My new 4200VSI was easy to install, has been designed to be an exact replacement for the old Breezaire, and began working without any trouble. My only comment is that the unit is noisier than my old Breezaire: it has a high pitched whine which at first told me it was working, but now is annoying. The CellarPro folks told me the noise is normal. Fortunately the unit is the garage and not inside the house. The CellarPro is a solid piece of equipment and I expect many years of service from it.

Reply from CellarPro
Thank you for your feedback! The unit that you purchased (4200VS) replaced a smaller Breezaire (3000S), and it is true that units get louder as they get more powerful. The additional noise mainly comes from the increased airflow that is necessary to generate the additional cooling power.
Installation easier than explained!
Bought the 4200VSI to replace my second Breezaire 4000WKE to fail in 12 years. Seems well built and the install was so simple as this one was 1/4 inch smaller than the old unit. Installing with the thermostat upgrade was simple though the cord would be more attractive if it came out of the side or even top corner of the unit than right out of the front control panel are. Solid so far.
Bruce Rudman
Thousand Oaks
8/3/2021
MR
The service from these folks was exceptional. I'm just in the process of installing this unit in my new wine cellar. The unit came on time and in perfect condition. Looks like a very well built unit. Can't wait to try it!
Failed-After 20 years
I am purchasing my 2nd Cellar Pro 4200VSi. My first unit has given up after 20 years of remarkable service. The only thing I have had to do in the entire time I have had the cooler is regularly change the filters. Amazing product! Looking forward to another 20 years of reliable cooling and humidity control.
n/a
My home unit manufactured by a competitor developed a leak in the cooling coil after four years use and froze over. Needed a replacement ASAP as I have a 1,200 bottle wine cellar and it was summertime. My local wine suppler who sold me the original unit suggested and recommended a Cellar Pro. Within a day over ordering the unit, and air freight, it was in my cellar working. The other good part of this story, the CellarPro was of the same dimension of my original unit and it fit perfectly in the hole in the wall of the cellar.
Eli Zamek
New York
9/30/2020
CellarPro 4200VSi Cooling Unit #1079
so far so good [1 week]. Had to replace a small unit that wasn't designed for my garage based cellar. Summer heat in the garage can hit 90-94 degrees so they did a good job of finding the right type/size unit for those conditions. I am very pleased that they sent a pre-delivery email telling me to make sure I let the unit rest for 24 hours before testing it. Main reason I like the unit is that if the power goes off and the house generator turns on I don't have to do any resets-- it will work normally. Which is important if you are travelling during summer storm season
Replacement Unit
I bought this house 3 years ago and it had a wine cellar with a 4200VSI unit that was 4 years old. After 7 years it gave out. After call CellarPro I felt the best option was to replace rather than repair the unit. They offered me a discount for the replacement unit. The new unit was received promptly and in great condition. Since I was replacing an older unit with exactly the same model the swap was very simple. I would give them 5 stars but since my older unit only lasted 7 years, 4 stars is the appropriate rating.
CellarPro VS Series
We are a professional wine cellar designer / builder in the southeast. Climate control systems tend to be the biggest headache in this industry. And over the years we have dealt with most of them, but have made CellarPro our go to choice because of quality, reliability, least amount of maintenance issues and excellent customer service. We have used most all of their systems at one time or another, but the VSI series is what we tend to use the most not only because of its quality, but it's versatility, ease of installation and cost. It's a solid product and a solid company. Highly recommend.
Cellars South
Greenville, SC
5/19/2020
DIY Cellar Cooler
Local contractors whom I contacted did not seem interested in a smaller existing-cellar cooler system only job. Maybe the construction & HVAC business is too good right now in our area? So I did some research and found CellarPro well-recommended, and the 4200VSI unit specs and features seemed an ideal fit for our 800-900 cf of cellar. Unit was in stock and was delivered within days. Came very well packaged and palleted, so the unit was unscathed despite some dings to the outside of the package. Instructions were clear & set up was straight forward and easy, except for actually lifting unit into place of course ... since quality does require some weight in condensers and such. Looks good in the room and appears well built. Unit holds temperature range well and is quiet, we do not even hear the unit when running except in the cellar itself and the adjoining basement exhaust area. This self-contained system is great for a DIY project, if you have the right layout for your cellar and an adjacent space into which to exhaust condenser heat.
Joe
Atlanta, GA suburb
11/12/2019
Second Time Purchaser
My first unit lasted almost 7 years to the day. It stopped working at a time of year all the refrigeration specialists are very busy so I decided to purchase a new unit. The new unit fit in the existing hole so the install was very easy and just like the old unit it does a nice job keeping the cellar cool.
wine drinker and cellar builder
fits nice, looks niceand keeps my wine prefect temp
Richard
Buffalo, NY
3/19/2019
4200 VSI
Had to replace my original BreezeAir which lasted maybe one year. Decided to go with CellarPro based on reviews and quality. The unit is not in a desirable location being in the attic on the 7th floor of a condo in Hot Atlanta. However it has performed nicely until the rear fan motor died. Decided to replace with a new CellarPro 4200 since the previous unit was a workhorse for many years. Would highly recommend CellarPro and the customer service are first rate.
Alan
Atlanta, Georgia
10/22/2018
Great customer service
I had a wine room built as part of a new house. My builder chose the wrong size unit then washed their hands clean if any responsibility. The team at cellar pro were quick to assist even though I was not the one who purchased (builder bought but I paid) and quickly determined I needed a larger unit. I could have gone with the 3200 but decided to have larger 4200 just to be safe. The team walked me through all parts I would need to make my system work. I am happy to report the system is installed and my 300 bottles collection is happy in the 58 degrees chilled cellar. The team also took my smaller unit back and assisted with arranging shipping. To say I am impressed is an understatement. To Ben and Keil and the rest of the team thank you.
Nick F.
Las Vegas
7/21/2018
new wine closet
I just moved into a new home that did not have a wine cellar. I had a Cellarpro 4200VSI in my old wine room and it worked well. I had an issue with the compressor but had it replaced. My new wine room is a bit smaller and I am using the same size unit. This system is ducted at both the front and back of the unit. It is mounted in my attic outside the wine room space. The unit is not in operation yet. I'm impressed with the increase in quality from my last purchase (2010) to now. Customer service has always been resoinsive & very good.
George
California
4/26/2018
Much better than Wisperkool
Replaced Widoerkool unit for third time. This last one lasted only 20 months. One before that 3 months. Went with Cellar Pro 4200 CSU unit for a change and am impressed so far with the performance. It easily keeps my 920 ft3 Cellar at 57 at medium fan speed. The installation was easy although some sort of weatherstrip was not included to seal the small gap between unit and frame out.
Braden Smith
Downers Grove, il
2/8/2018
Cellarpro 4200vsi
Came just as described. Jimmy was exceptionally helpful. Took time to make sure it was the right system and that all questions were answered.
Greg
Calabassis, CA
10/30/2017
Outstanding Unit and Great Customer Support
I have a 1000 bottle cellar in my vacation home in California's Gold Country in Amador County that I built in 2005. It is 100 miles from my primary home in the SF Bay Area. I've replaced 3, yes 3, cooling units that were made in China that I purchased from fill in the blank.Enthusiast.com. Every year they would freeze up and I'd have to drive up and thaw them out. I purchased and installed the CellarPro 4200VSi in October 2016. Here in Northern California, the weather this year has been extremely hot with outside temps exceeding 100 degrees F. This unit has handled the temps without any issue at all. While it automatically circulates air in the cellar every 15 minutes, it only switches into "cooling mode" every couple of hours. My cellar stays at 58 degrees and my electric bill is significantly lower than with the other coolers. What's more, the humidity is about 20% higher than with the other units. I'm sure there is a technical reason for this, but what really matters is the impact on my corks. And I haven't had to make emergency trips to the cellar to deal with failing cooling units and frozen coils. These units are the "real deal". Don't believe the false claims of BTU ratings from others. Customer service has been exceptional. I've called them twice about technical details and they were responsive and straight-forward in their responses. These guys know what they are doing !
Craig
Amador County, CA
8/3/2017
4200 VSI
Replaced a Breezaire, that was only 18 months old, with a Cellarpro. Extremely happy with the unit. It was painful to eat the cost of the Breezeaire but well worth it. The performance difference is remarkable.
J Fetherston
Napa Valley
8/23/2016
4200 VSI
Very happy with my Cellar Pro. It arrived sooner than expected, was packaged very well, installed easily, and Bryan followed up with me regularly. The unit is performing very well in my cellar. Wish I bought this the first time!
L. Taylor
West Des Moines, IA.
8/10/2016
4200VSI
The minute I opened the box I was immediately impressed with the quality of the packaging and upon seeing the unit had great confidence the 4200VSI would do the job. The installation instructions were very clear and straight forward. I recommend following the cut dimensions closely to ensure a tight fit. Also, the unit is heavy so be prepared to have at least two strong individuals when placing in your wall. The unit is very quite and controls both temperature and humidity exactly as needed. I have great confidence this unit will last many years to come.
Ed Wagner
Tualatin, Oregon
7/26/2016
4200VSi Review
A very easy to install and excellent product. Great for a DYI or contractor. We have recommended this unit many times. Also the best sales and customer support I have ever dealt with.
Sonray Construction
Rocklin, CA
7/21/2016
4200VSi Review
Installed the 4200VSi last evening. Have to say, out of the box the unit looked less like an air conditioner and more like a piece of serious audiophile sound equipment! Quality,fit, and function is impeccable. Of course it's cooling beautifully! I may have some questions in the coming weeks but for now, hats off to you and CellarPro!
Tofanelli Wines
Napa Valley, CA
5/25/2016
Great Cooler
Very easy to install and it cools down the room impressively. Make sure you vent is properly though as it puts out a lot of heat. I'm now sorry I didn't vent this to the outside and easily could have. The first unit that was sent was defective and one other piece of advice is to fire it up and make sure it is blowing cold air (we did fire it up but didn't realize it wasn't actually cooling). Replacement process would have been painless but we had to uninstall the unit. Otherwise very happy.
Robert Enderle
Bend OR
5/7/2016
Love This Cooling Unit
Absolutely love this cooling unit. I have a 2,500-bottle wine cellar and I need flawless performance from a unit. This delivers 100%. Best decision I made was purchasing this unit!
Chris S
Novato, CA
8/4/2015
Great Company
My fan was shipped when I was told it would be & contained great directions and a contact if I had a prob. Great company!
Paul M.
Gardendale, AL
1/15/2015
Replaced Original Unit Earlier Than You Would Expect
My original unit was installed by an HVAC Contractor in July 2014. The unit failed (would not maintain temperature) in May 2015. I worked with Customer Support to troublshoot the unit but it was ultimately determined the unit needed to be replaced. Replacement unit shipment took 6 days which is a long time when you are watching the temperature in your wine room increasing. HVAC Contractor installed the replacement unit which is working fine. I recommend having a service agreement.
Thanks
A quick note to says thanks for the great service and technical support that I received following my purchase of a 4200VSi cooler. My install was difficult because of location, but with the assistance of Ben A and his technical team, the job went very well. I was particularly impressed when I posted a question to your website via email and had a return message the next day with an offer for me to call Ben on his cell number (on a Sunday, no less). Great equipment, exceptional people and an excellent experience. Thank you!
Ron B.
Calgary, AB
9/4/2014
CellarPro 4200VSi DIY Install
Received 8 years of reliable performance from our last unit (Koolspace), but it was way undersized for the task of cooling my cellar so I needed to upgrade. Had my eye on the Eurocave INOA self-contained tower unit, but after a long and helpful discussion with the excellent Customer Service folks at Rosehill Wine Cellars, I settled on the CellarPro unit instead. Glad I did. To convert from the wall-mounted unit to a ducted register system, I included the front duct kit, which also required the remote control kit. The conversion project was a somewhat complicated (and fun, in a way that only us DIYers understand) installation job overall, but NOT because of any fault of the CellarPro unit. The 4200 appears to be well-built, it is fully capable of maintaining the proper temp range in my cellar, and it is quiet during operation. The price seems fair for the quality, capacity, features and warranty, and considering the amount of money that I have invested in the wine in my cellar, it was an easy decision once I settled on the proper unit. As a side note regarding humidity; Per the suggestion in the instructions, I added foam insulation to the outside of the supplied duct kit pieces, and additionally I ordered a small, 2.5 GPH in-pan condensate removal pump (EC-400) from PexSupply.com to handle any drainage come summertime, since the unit is located in an area of the house where I cannot just let any condensate drain freely. California has very low humidity, so I don't need a larger HVAC-rated condensate pump. This unit is handy because it has a self-contained sump pan w/float included, so the installation is very easy. Very impressed with the unit overall, and a fun and satisfying DIY chore for those who have some reasonably strong experience (and a strong back-it is a bit heavy). My wine sleeps well, and so do I.
Barry K.
Granite Bay, CA
11/27/2013
CellarPro 4200VSi
Installed unit after other brands failed too soon. Runs very quiet. Appears sturdy. I like the air intake filter (absence was a problem with other brands). While heavy, I think the published weight must include packing material. I suggest you rent a duck lift (essentially a manual fork lift) it is safer than a second person to install unit. Staff worked well to arrange a shipping date that worked for me. It was pricey, especially with the extended warranty, but if it lasts will be worth it.
Peter
Alexandia, VA
6/7/2013
CellarPro 4200VSi Cooling Unit
Installed the unit about 3 weeks ago, easy to install if you have help lifting it in place, it is heavy. This is the 3rd cooling unit I have purchased in the past 5 years, the first 2 (other brands) failed after about 2 1/2 years of use so I decided to spend more for a higher quality one. Right away you can see this is a solid unit compared to the others. Fired up right out of the box and got to temperature with ease in my 1,000 CU FT cellar. Holds temp well with little effort @ medium setting using 5-6 kWH a day in electricity in a well insulated cellar with 85-90 degrees outside temps. Pros - Look and feel tells you this is higher quality than many others I have seen - Maintains temps with ease - Very quiet Cons - Price, but if this lasts it will be worth the extra $
Steve T
Auburn, Ca.
5/11/2013
CellarPro 4200vsi
Absolutely perfect for my needs. Quiet, and the temperature of the cellar is rock-solid steady. I highly recommend the unit and the company. I wasn't sure exactly what accessories I needed, and ordered more than should have. The people at Cellarpro got in touch with me immediately, asked questions about how I intended to install and use the unit, and made sure they shipped only what I needed. I recommend them highly.
Lou Galie
Leander Texas
2/8/2013
Perfect
Thought I would let you know that the unit we bought is perfect. It is not just quiet but I consider it silent. The temp NEVER changes – it stays at a constant 57°. We are so glad that you were able to guide us in the right direction.
Bill and Stephanie
Dallas, TX
12/13/2012
CellarPro 4200VSi Cooling Unit
I have only had the unit for 7 days. The install was easy since I already had electric in place for my old split system. I did have to cut a hole in the wall & frame it out. That process took about 3 hours because I also had to cut some of my wine rack to make space. The most difficult part of the install was due to my unit being mounted about 7 feet high. It took 3 people to lift it in place. Once mounted in the wall it started right up and ran perfect right out of the box. The Cellar Pro, even on high, runs quieter than the split system it replaced. It had no problem bringing wine my cellar back to 55 and keeping it cool in these 100 degree days we have been having. The only issue I have so far is the far side of my cellar runs about 1 degree warmer than the cooling unit side. If the cool air vents were adjustable I probably could redirect the air straight back and solve the problem. Maybe cellar pro will add this feature in the future. I did talk to customer service & they suggested I remote mount the temperature probe. I'll give that a go in the near future.
James Moss
Munster Indiana
7/8/2012
Really Impressed
I'm really impressed by the high quality construction and design of the unit which far exceeds that of unit made by a different company which just failed and which could not be easily repaired.
Mark M.
Silver Spring, MD
4/22/2012
Cellar Pro 4200 VSi
The unit was installed a couple of weeks ago and seems to be running well. The wine cellar is about 1500 sf, so the unit has to work hard, but the room is very well insulated. The temp is 59-60 degrees and I have not made any adjustments to date. The machine vents into the garage which can certainly be warm during the hot days. Time will tell. Comparatively, I feel it is a good value. Installation was easy for my contractor.
Tim Reulin
Forestville, CA 7/12/11
7/12/2011
Cellar-Pro 4200
Recently purchased this unit. It arrived when promised and in good condition. Installed easily in my 500 cu ft cellar. The unit is very quiet. My cellar thermometer reads 4 degrees warmer than the unit (can't be sure which is correct), so I set the unit at 51 and the cellar thermometer reads a constant 55. Looking forward to many years of properly-aged wine!
JP Miller
Portola Valley, CA
7/7/2010
Rock Solid
Temperature control is quite accurate!! Will monitor during 1st summer of operation but we've hit 90's already and temp is rock solid.
Ed R.
Houston, TX
5/13/2010
CellarPro 4200VSi
I received my unit two weeks ago and had it installed through the wall by a carpenter--it took 2 hours and was very simple job. The unit works extremely well and within a half hour the wine room temperature reached the correct level. It does exactly what I want it to do--control the temp and humidity. The unit is not on most of the time (I have good insulation and a moister barrier both of which are important). I had shopped around and although this unit is a little more expensive, it is worth it. The CellarPro guys explained everything to me, were very patient and called to check on how it was working. Without reservation, I can recommend the unit to anyone. I have about 880 cubic feet of space to be conditioned and I understand it works well up to 1,000.
Marty Coyle
Sonoma, CA
10/28/2009
CellarPro 4200 Vsi DIY Install
Replaced a Breezaire unit that leaked water and wouldn't keep my cellar a consistent humidity and was extremely noisey. I mounted this unit in my cellar and used the rear ducting. Temperature and humidity are in the perfect range and I can not hear it running outside of my cellar. I wished I had purchased this one first.
Mike
Canyon Lake, TX
8/24/2007
Cellerpro 4200Vsi
Installed this to replace a Breezair unit that failed after 6 years. The 4200Vsi is much heavier than the old one and seems much better built from the outside. It is also more expensive and I hope it's one of those 'you get what you pay for' situations. I really like the 3 speeds and it is also quieter than the old unit. FYI, the unit comes on a pallet and I recommend help to get it unloaded. I have a small tractor with front end loader and that made it easy.