CellarPro Air Handler AH12Sx Split Outdoor #34210




12,400 BTUH @ 55F
.
CellarPro's AH12Sx split cooling system (
1.25 Ton Nominal
) is suitable for wine cellars up to
4500 cubic feet*
in both commercial and residential wine cellars. The evaporator module features a powerful centrifugal fan that can handle ducting up to 0.30"wg external static pressure (equivalent to 12" diameter using R-6 insulated flex ducting, or 113 sq. inches area using R-6 insulated hard ducting.)
Designed for the condensing unit to be installed indoors or outdoors, the air-cooled condensing unit can handle
ambient temperatures ranging from -30F to 110F.
Please note that the condensing unit cannot be ducted and requires sufficient clearance for proper airflow - refer to the Owner's Manual for more information.
*4500 cubic feet size assumes that the cellar is constructed with insulation of R19 or better in all walls and ceiling (ie no glass or uninsulated concrete), a setpoint of 55F inside the cellar and ambient temperatures up to 85F outside the cellar. Ducting will add additional load and must be considered in the sizing calculation.
Request a free thermal load calculation
Please note:
Our units were not designed for, and our warranty does not cover damage from, marine exposure (within 5 miles of the ocean). In these environments, you will need an applied coating, such as Insitu®, to protect against corrosion that is common in coastal regions.

(0)
Read / Add Reviews
Price: $7,995.00
Shipping Information:
LTL Truck / Curbside
Availability: In Stock


Usually Ships w/i 1-2 Weeks
Back in stock:
CellarPro AH12Sx Air Handler Cooling System (P/N 34210). Our Split Air Handler is rated for exterior usage and designed for cellars up to 4500* cubic feet, providing ducted refrigeration specifically designed for wine cellars.
All air-cooled refrigeration equipment requires fresh air intake to dissipate the heat generated by the cooling unit. The fresh air intake CANNOT come from the wine cellar space - it must come from space outside the cellar.
Evaporator features an aluminum body for light weight, corrosion resistance and aesthetics
Quick-release hardware simplifies internal access
Scroll compressor provides high-reliability, high efficiency and low noise
Insulated evaporator compartment provides maximum thermal efficiency.
A-frame evaporator construction increases cooling capacity and reduces power consumption.
Speed-optimized ECM blower motor in a draw-thru configuration provides even air distribution across the evaporator coils with 1175 CFM
Using 12" diameter R-6 insulated flex ducting, the Evaporator can be ducted up to 100 equivalent feet (50 equivalent feet per duct)
Using R-6 insulated hard ducting, the Evaporator can be ducted with maximum external static pressure of 0.3"wg and minimum cross sectional area of 113 sq inches.
Commercial-grade Electrofin coating protects the evaporator coils from leaks and corrosion.
Stainless steel condensate pan and condensate safety switch protects against condensate overflow
Low RPM minimizes air noise and motor HP consumption
Evaporator blower assembly is mounted to an internal chamber to further reduce noise
Includes Class 2, 24VAC control circuit with all necessary contactors, fuses and/or circuit breakers
Compatible with WiFi-enabled 24V Thermostats (sold separately) to control and display cellar temperature
Optional integrated humidity module includes a Digital IAQ Humidistat that allows the cellar humidity to be set from 5% to 70% in 5% increments
Optional integrated heating system provides heating instead of cooling when cellar temperatures drop below the setpoint.
Air cooled condensing unit enclosure suitable for indoor or outdoor installations
The Evaporator and Condensing Unit are factory-pressurized and shipped with dry nitrogen to ensure leak-free installation.
CellarPro's 2-Year/5-Year Warranty, the most thorough in the industry, provides 2 years' coverage on parts (labor is not included) and 5 years on the compressor .
An optional Extended Warranty (P/N 31489) is available for additional protection.
ETL Tested and Certified to rigorous UL Standards for safety.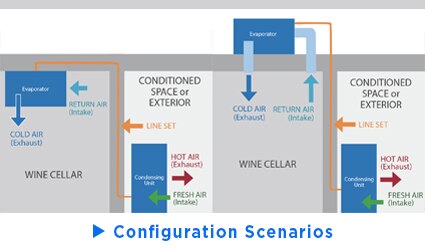 Configurations
Cold side exhaust is on the front and intake is on the right side.
The system requires either 208V/1PH/60HZ or 230V/1PH/60HZ dual power supplies, with a 15 amp circuit for the evaporator module, and a 50 amp dedicated circuit for the condensing unit. Either 208V or 230V must be specified when ordering the system.
24VAC control wiring is required between the main temperature controller and the evaporator. No communication wiring is required between the evaporator and the condensing unit.
The system includes a refrigerant pump-down solenoid valve to prevent liquid slugging.
Units are evacuated and charged with dry nitrogen.
The Evaporator operating range is 45F to 62F cellar temperature without the Integrated Humidifier, and 51F.to 62F with the Integrated Humidifier
An optional integrated humidification system and an optional heating system are available for additional cost. These optoins must be factory installed and require additional power. Please consult the Owners Manual for specific power requirements.
The evaporator should never be exposed to temperatures below 32F.
The unit includes a mounted defrost controller that manages the defrost cycle, which is time initiated, temperature terminated with a factory default of 1 hour.
Access to the left and right side of the evaporator unit is required for installation and service.
Split systems must be installed and charged on site by qualified HVAC/R professionals. Line-set equivalent feet must be calculated in accordance with ASHRAE guidelines; refer to our Line Sizing Chart for more information.
CellarPro cooling units must always be used in the upright position, and should never be operated on its side or upside down. These units are shipped strapped to a pallet via common carrier with curbside delivery. Inside delivery is available for an additional charge.
To activate your warranty, you must complete and return our Installation Checklist.
Capacity:

12400 BTUH @ 55F

Size:

41 3/8w x 36 5/8d x 22 3/8h (in) (Evap)

Weight:

375

lb

Power/Rating:Power:
- 208V/1PH/60HZ or 230V/1PH/60HZ ( must be specified when ordering) with dual power supplies:


15 amp circuit for the evaporator module
25 amp dedicated circuit for the condensing unit.

- Startup Amps: 56 Amps
- Total System Watts: 1685 (not including optional Integrated Humidifier or Heater)
Warranty:2 Years (Entire System) / 5 Years (Compressor) To activate your warranty, you must complete and return our Split Installation Checklist.

Optional Extended Warranty - sold separately.
SKU:

noinfofound

UPC:

077757011177

Condensing Unit Dimensions:
- 219 lbs (no humidifier)
- 16 5/8w x 40 1/2d x 33 1/8h

Evaporator Unit Dimensions:
- 156 lbs
- Add 5 lbs for Integrated Heater and 20lbs for Integrated Humidifier
- 41 3/8w x 36 5/8d x 22 3/8h
1.25 Tons Nominal
12,400 BTUH @ 55F

Evaporator Decibels
- Ducted: 65 dbA
- Non-Ducted: 76 dbA

Condensing Unit Decibels
- 61 dbA


Click on one of the following links for more information:

Cold Temperature
Compressor Heater: protects the unit when installed in environments that drop down to 20F - Included as standard equipment.
Fan Cycling Switch: supports the unit in temperatures below 20F and as low as -20F when configured with Electronic Control and combined with our compressor heater. Included as standard equipment

Remote Thermostats, Displays & Probes
Networkable Thermostat Upgrade: Included as standard equipment allowing connection of your cooling unit to a networkable, Wi-Fi enabled thermostat (sold separately, Ecobee SmartThermostat Pro #31453). Some limitations apply - read the networkable thermostat description for more information.
Heating & Humidification
Integrated Heater #32034: adds 3000 watts of heat through the cooling system when the cellar is in an unheated environment and will be exposed to temperatures below desired wine storage temperatures.
Integrated Humidifier #32035: provides humidification with digital control inside the cellar when attached to an external water line.
Condensate PumpDID YOU KNOW?
Nobody protects your wine cellar better than CellarPro Cooling Systems! In the event your cooling unit fails and the failed components are covered by our warranty, we'll send a replacement cooling unit to you per the terms of our
Replacement Unit Program
CellarPro Replacement Unit Program
If your CellarPro cooling unit fails and the parts that failed are still covered by warranty, we'll send a replacement cooling unit to you, as follows:
Your cooling unit must be registered at CellarPro
Your cooling unit must have been properly sized, installed and maintained
Your cooling unit may not have been permanently modified, damaged or disfigured
Please note:
Replacement units are factory-refurbished cooling units with a similar build date as your original unit
You are responsible for the shipping cost to send the replacement unit to you and return the original unit to us, and the cost (if any) to remove the original unit and install the replacement unit
In order to send a replacement unit, we require a deposit, which will be refunded minus shipping costs upon the return and pending the inspection of the original unit
If the original unit failed due to improper installation or use, the failure is not covered by warranty and we will deduct the cost of the repairs from the refund of your deposit

What's the difference between a split system and "through the wall" or "self-contained" systems?

A: Split systems are "split" into two parts: the cold side (evaporator) which usually is installed inside the cellar, and the hot side (condensing unit) which is installed away from the cellar. The benefit of having this split is that the heat and noise from the condensing unit can be located far away from living spaces where it won't interfere with day-to-day life.

Are split systems more difficult to install than self-contained systems?

A: Yes. Split systems require installation by a licensed HVAC technician, whereas a self-contained unit can be mounted through-the-wall and is shipped fully charged and operational out of the box.

Can I install the entire unit inside the cellar?

A: No, the condensing unit must be located outside the cellar.

If I don't have sufficient space around the condensing unit, is that Ok?

A: The condensing unit generates hot air that must have sufficient space to dissipate, otherwise the unit will recycle its own hot air. The condensing unit comes equipped for an ambient temperature range of -30F to 110F and is suitable for both indoor and outdoor installations. Refer to the owners manual for required clearances around the condensing unit. The condensing unit cannot be ducted. If installed indoors, the space must have adequate ventilation to ensure the supply air temperature does not exceed 110F.

Does the evaporator include flare connections, or will I need to braze the connections to the line-set?

A: Flare connections are much more prone to leaks, and have been phased out over the years, replaced by fully-brazed connections. This is driven by the EPA and the focus on minimizing refrigerant leaks into the atmosphere.

Does the unit really need a dedicated circuit?

A: First, the background. Unlike our competitors, we build our cooling units with precision expansion valves, not cap tubes, which means that our cooling units aren't limited to a 30°F differential between the desired cellar temperature and the ambient temperature. Cooling systems with expansion valves are much more precise than cap tubes, and much more sensitive to low voltage conditions, which is why our units require dedicated circuits. When we say "dedicated circuit", we mean that the circuit shouldn't have any items that require heavy draws of electricity - eg other appliances, vacuum cleaners, big-screen TVs, blow-dryers - on the same circuit as the cooling unit. Lighting, computers or other low-draw items shouldn't be a problem on the same circuit.