CellarPro 3200VSi Cooling Unit #1616




3040 BTUH @ 55F.
CellarPro's 3200VSi cooling units (1/3 Ton Nominal) are engineered for wine cellars up to 800* cubic feet in both commercial and residential wine cellars.

Performance testing shows that this unit maintains optimal cellar temperature and humidity conditions in extreme conditions up to 110F more effectively than similar units from competing brands. 3200VSi units also are significantly quieter than comparable units from other brands. Visit our Learning Center for data tables, performance charts and product comparisons among different brands.

*Assuming R19 insulation throughout the cellar, 55F inside the cellar and 85F outside the cellar. Cold-side ducting, glass and/or uninsulated walls, extreme humidity, altitude and other factors may affect the sizing calculation.

(43)
Read / Add Reviews
Price: $2,650.00
Shipping Information:
LTL Truck / Curbside
Availability: In Stock


Usually Ships w/i 1-2 Weeks
Back in stock:
Free Shipping! Receive free curbside delivery in the lower 48 states for a limited time. Simply add to your cart and checkout.
CellarPro 3200VSi Cooling Unit (P/N 1616). CellarPro engineered the 3200VSi cooling unit to provide maximum cooling power and adjustable humidity control for cellars up to 800 cubic feet. Designed for internal installations, 3200VSi units are built with variable-speed fans with a low setting for super-quiet operation, and high-output Danfoss compressors and oversized coils for maximum performance in high-temperature environments up to 110F.
All air-cooled refrigeration equipment requires fresh air intake to dissipate the heat generated by the cooling unit. The fresh air intake CANNOT come from the wine cellar space - it must come from space outside the cellar.
This unit can be configured to operate in extreme temperature conditions (-20 to 110F). If the unit's location does not provide sufficient room for airflow, you may need to purchase a rear duct kit.
Dual high-output centrifugal fans come with variable speed settings for your choice of maximum cooling power at the high fan speed, or super-quiet operation (53.7 decibels) at the low fan speed.
Adjustable humidity control combines a high-output compressor with flexible fan cycles to maintain a recommended level of moisture inside your cellar.
Extra-large coils generate maximum cooling power inside the cellar.
Excess condensate is managed with a high-capacity stainless steel drain pan, welded 1/2" drain line and 200W electric heating element with "On/Off" Control.
Commercial-grade Electrofin coating protects the evaporator coils from leaks and corrosion.
Intuitive LED display panel mounted on the evaporator with digital programmable thermostat is simple and easy to use. Remote thermostat is available as an upgrade.
Energy-saver mode, quick-chill mode, and auto-defrost cycle provide convenient solutions to common cellar needs.
Temperature set point range is 47F to 62F when the cooling unit is properly sized.
Unit operates with minimal vibrations and less noise than comparable units from competitors.
Audible and visual alarms and maintenance-needed indicator protect the cooling unit and the wine cellar.
With dual power sources and a 10-foot power cord, the unit can be plugged into a receptacle from either the front or the rear of the cooling unit, providing flexibility for most installations.
Common dedicated 15-amp circuit is required to power the unit.
Our easy-access disposable air filter protects the condenser coils and increases the expected useful life of the cooling unit.
Adjustable mounting brackets, included as standard equipment, ensure easy installation.
Removable steel case and refrigerant access valve provides access to the internal components for servicing and repair.
CellarPro's 5-Year Standard Warranty, the most thorough in the industry, protects the unit against manufacturing defects.
An optional Extended Warranty (P/N 1836) is available for additional protection.
ETL Tested and Certified to rigorous UL Standards for safety.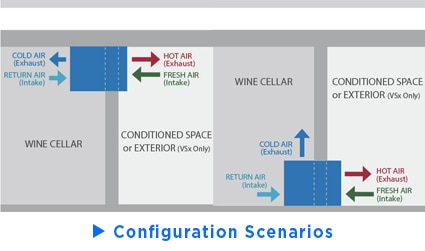 Configurations
CellarPro 3200VSi units are self-enclosed, fully-charged units designed to be installed through-the-wall and sized to fit in between standard wall studs.
3200VSi units also can be located remotely from the cellar with the addition of one of our front duct packages. Offered with or without insulated flex ducting, in a choice of configurations for low or high humidity conditions, our front duct packages allow these cooling units to be ducted up to 50 equivalent feet away from the cellar and requires 8-inch (or greater) ducting from start to finish.
When calculating equivalent feet, each 90-degree turn counts for 8 feet.
For remote or inaccessible installations, we offer a remote control display kit which is wired to the cooling unit and allows the digital display to be mounted inside or outside the cellar.
3200VSi units require fresh air intake at the rear of the cooling unit. If sufficient space does not exist to provide sufficient airflow to the rear of the cooling unit, you may need our rear duct kit.
3200VS Series cooling units can be installed completely inside the wine cellar when used with our rear duct kit, which allows you to duct the supply and return airflows from the rear of the cooling unit up to 100 equivalent feet (50 feet per duct).
For installation in environments below 40F, 3200VSi units require our Compressor Heater (P/N 1727) .
For installation in environments below 20F down to -20F, we recommend our Fan-Cycling Switch (P/N 6972) combined with our compressor heater.
The front of the cooling unit should never be exposed to temperatures below 32F.
A CellarPro cooling unit must always be used in the upright position, and should never be operated on its side or upside down.
We ship these units strapped to a pallet via common carrier with curbside delivery. Inside delivery is available for an additional charge.
Capacity:

3040 BTUH @ 55F

Size:

14 1/10w x 25 1/10d x 19 3/5h (in)

Weight:

130

lb

Power/Rating:115V AC / 60 Hz
Compressor Amps:
- Startup: 30.0 Amps
- Unit Amp Rating: 9.2 Amps (high fan speed)
- Total Watts with Evaporator On / Med Fan: 808
- Total Watts with Evaporator Off / Med Fan: 608
- Compatible with Dedicated 15-Amp Circuit

BTUH @ 55F / Decibels:
-Low Fan Speed: 2487 / 54 dBA
-Medium Fan Speed: 2876 / 58 dBA
-High Fan Speed: 3040 / 66 dBA
1/3 Ton Nominal
Warranty:2 Years (Entire System) / 5 Years (Compressor)
Optional Extended Warranty sold separately.
SKU:

3200VSi

UPC:

077757016165

Click on one of the following links for more information:

Cold Temperature
Duct Hoods
Duct Hoods (Cold Side) (#7408 for low-humidity environments or #7427 for high-humidity environments) and Kits (#1476 for low-humidity environments or #7426 for high-humidity environments): permits the cooling unit to be located remotely, up to 50 equivalent feet away from the cellar using 8" diameter ducting.
Duct Hood (Hot Side) #7407 and Kit #1113: allows you to install the unit completely inside your cellar or in a small space with limited airflow, up to 100 equivalent feet (50 feet per duct) using 8" diameter ducting.
Duct Kits are the same as Duct Hoods, and also include 2 x 25-feet of 8-inch insulated (R-6) flex ducting.

Filters & Grills
Use our filter & grill guide to find the cooling unit filter or duct filter and/or duct grill that is appropriate for your cooling unit.

Remote Thermostats, Displays & ProbesDID YOU KNOW?
Nobody protects your wine cellar better than CellarPro Cooling Systems! In the event your cooling unit fails and the failed components are covered by our warranty, we'll send a replacement cooling unit to you per the terms of our
Replacement Unit Program
CellarPro Replacement Unit Program
If your CellarPro cooling unit fails and the parts that failed are still covered by warranty, we'll send a replacement cooling unit to you, as follows:
Your cooling unit must be registered at CellarPro
Your cooling unit must have been properly sized, installed and maintained
Your cooling unit may not have been permanently modified, damaged or disfigured
Please note:
Replacement units are factory-refurbished cooling units with a similar build date as your original unit
You are responsible for the shipping cost to send the replacement unit to you and return the original unit to us, and the cost (if any) to remove the original unit and install the replacement unit
In order to send a replacement unit, we require a deposit, which will be refunded minus shipping costs upon the return and pending the inspection of the original unit
If the original unit failed due to improper intallation or use, the failure is not covered by warranty and we will deduct the cost of the repairs from the refund of your deposit
How cold can the temperature be where the cooling unit is installed?

A: For installations in environments below 40F down to 20F, we recommend adding our compressor heater (P/N 1727), which is included as standard equipment on all outdoor units. Below 20F, in addition to the compressor heater, we recommend adding our fan cycling switch (P/N 6972)

Does the unit really need a dedicated circuit?

A: First, the background. Unlike our competitors, we build our cooling units with precision expansion valves, not cap tubes, which means that our cooling units aren't limited to a 30F differential between the desired cellar temperature and the ambient temperature. Cooling systems with expansion valves are much more precise than cap tubes, and much more sensitive to low voltage conditions, which is why our units require dedicated circuits. When we say "dedicated circuit", we mean that the circuit shouldn't have any items that require heavy draws of electricity - eg other appliances, vacuum cleaners, big-screen TVs, blow-dryers - on the same circuit as the cooling unit. Lighting, computers or other low-draw items shouldn't be a problem on the same circuit.

Can the cooling unit be located in a remote location and ducted to/from the wine cellar?

A: These cooling units can be ducted up to 50 equivalent feet away from the wine cellar when used with our cold-side (front) duct hoods and kits. Remember that cold-side ducting must be insulated and additional load should be added to properly size the required cooling unit.

Can I install the entire unit inside the cellar?

A: These cooling units can be installed completely inside the wine cellar when used with our hot-side (rear) duct hoods and kits, which allow rear supply and return airflows from a temperature controlled environment OUTSIDE the cellar to be ducted (with insulated ducting to minimize heat transfer inside the cellar) up to 100 equivalent feet (50 feet per duct).

If I don't have sufficient space behind the cooling unit, is that Ok?

A: The rear of the cooling unit generates hot air that must have sufficient space to dissipate, otherwise the unit will recycle its own hot air. The hot air exhaust and/or intake can be ducted to another location with our rear duct hoods and kits, which allow rear supply and return airflows from a temperature controlled environment OUTSIDE the cellar to be ducted (with insulated ducting to minimize heat transfer inside the cellar) up to 100 equivalent feet (50 feet per duct).

Can I use the low fan speed setting on the cooling unit when the unit is ducted?

A: Duct hoods and kits create additional static pressure and therefore require the use of the high fan speed to overcome the additional static pressure.
Cellar Pro Cooling Unit
David
Nashville, TN
8/11/2020
CellarPro 3200 vsi
Installed through the wall and working great.. It's only been a few days so no idea of long term use yet.
Cellar Pro VS Series
Quality unit from a consistent and reliable company. The versatility of the VS Series units make them an easy choice!
AWC, Inc.
Atlanta, GA
6/2/2020
CellarPro VS Series
We are a professional wine cellar designer / builder in the southeast. Climate control systems tend to be the biggest headache in this industry. And over the years we have dealt with most of them, but have made CellarPro our go to choice because of quality, reliability, least amount of maintenance issues and excellent customer service. We have used most all of their systems at one time or another, but the VSI series is what we tend to use the most not only because of its quality, but it's versatility, ease of installation and cost. It's a solid product and a solid company. Highly recommend.
Cellars South
Greenville, SC
5/19/2020
Cellar Pro Cooling System
Great service, very informative, fast delivery
Messsina Homes
East Moriches, NY
2/28/2020
Great Cooler. Very Happy .... Mostly
I have recently purchased my second 3200vsi unit. I have always been pleased with the unit's performance as it has kept my wine in pristine condition for most of a decade. The first unit needed a new control panel after about 5 years and the unit became unserviceable after about 8. It would have loved for it to have it to have lasted longer and not had issues along the way, but don't know if that is realistic.
Easy replacement for Breezaire 4000
I moved to a new house 6 years ago with no wine cellar and purchased a 2000 bottle wine vault and placed in my garage. I upgraded both the insulation and cooling unit from a breezaire 3000 to a breezaire 4000 as we can get summer temperatures in excess of 100. It generally worked well but had trouble maintaining 60 in hot weather and this year could only get down to 64 by running continually. I decided to swap for a new unit, after reviewing the market I decided on the CellarPro 3200VSI, great pre-sales service from CellarPro. The unit arrived I unpacked tested on flat surface as instructed and asked a friend to help me install as the unit weighs over 100 lbs. 30 minutes later the unit was installed and working! So far I have had no problems maintaining 58 even in the hottest weather. So far very happy with my purchase, I use it with a bottle probe and the unit is on for less than 50% of the time.
CellarPro 3200Vsi & accessories
I just ordered and installed the 3200Vsi cooling unit along with the ducted accessory. The order process was very easy and Bruce was very helpful in determining everything I need. The installation was a breeze. I found the instruction cut sheets supplied to be very helpful. The whole installation process took about 1 1/2 hrs and was pleased to see how quickly my cellar was cooled to my desired temperature. The unit itself is installed in my basement so I have no noise in my cellar to interfere with my music. I would highly recommend CellarPro for all of your wine cooling needs.
Jeff Karr
Shaver Lake, CA
5/23/2019
Easy replacement for Breezaire WKE3000
I have a small wine room that came with the Breezaire WKE3000. About 20 years old now. The first unit lasted about 8 years. The next one lasted about 7. The next only 3, at which point I had it serviced and it lasted 2 more. So, I was excited to learn of the CellarPro coolers that seem to take quality more seriously. The unit is nearly identical in size and so replacement/installation was really easy. It is a nice upgrade in functionality, too, with the rear power cord being an included option, adjustable fan speed, built-in condensation evaporation (if needed - and I don't). I won't know about the most important aspect for years, I hope - longevity. So, here are my minor complaints: My room was designed with the cooler at the bottom, so circulation is not ideal. I bought a magnetic stick on vent to direct the air output upwards, but it turned out the face of the unit has an aluminum plate, so it didn't stick - but velcro does. On medium and high fan speeds, it is noisier than the Breezaire was, but not by a lot.
Ross Heitkamp
Mtn. View, CA
7/10/2018
Very disappointing lifespan
Very disappointing lifespan-compressor died after only seven years despite meticulous maintenance. No local help available without returning it to Celler Pro. Installed pursuant to your specifications and I expected more than seven years and out. Still when it ran and it ran well and because of my configuration I bought another identical unit. I am hopeful of greater longevity.
John Mahoney
Mt Pleasant SC
4/10/2018
Great Wine Cellar Cooling Unit
I replaced another brand cooling unit that had failed. It's published specs were correct making the Cellarpro easy to install. Since using it, it has performed exceptionally. The unit is quiet and has a number of features not found on my previous unit. Very satisfied and would highly recommend.
Morris
San Francisco, CA
11/22/2017
High Quality Unit
Purchased the unit for a newly built wine cellar. Unit is quiet, efficient, and keeps temperature extremely stable. This unit delivers exactly as advertised and after 9-12 months of use has run perfectly and I would recommend the unit to others
3200VSI
Everything went as described with the installation. So far the unit is operating nicely. IT arrived with a hole in the box, but there was no damage to the machine. The driver took all the particulars of the hole as well as pictures. Hope all will be well.
adrienne murphy
toronto, canada
7/11/2017
3200VSI
After 5+ years rear fan went bad. Opted to replace with a new unit. Customer Service was great and unit delivered within one week
Steve
Lenox, Massachusetts
6/20/2017
3200VSi
Replaced a Breezaire which died after 3 years. Easy to install and looks great. Bryan made ordering easy and great follow-up throughout.
Bob S
Cincinnati, OH
3/28/2017
3200 VSi
Ordered from cellar pro and showed up as promised by common carrier. I ducted mine into the wine room. I'm using the room probe and the chiller is holding the temperature as set. It was easy to install and is doing well after 1 week. I would order this again.
Douglas M
Littleton, CO
2/18/2017
3200vs Cooling Unit
Everything went as described with the installation. So far the unit is operating nicely.
CellarPro 3200VSi Cooling Unit
Recently installed. Ordering and delivery went smoothly. Unit is operating perfectly so far.
CellarPro 3200VSi Cooling Unit
Nice unit.... replaced a former Breezaire unit. Bryan was very helpful - during and after the order.
Jim
Voorhees, NJ
10/18/2016
Solid unit - and Great customer service
Unit is very solid and so far, after 3 months is working well. Had an error message on start up which was due to my venting of the unit, and troubleshooted quickly by customer service. Only complaint is that I might need the exhaust duct kit, when I purchased from IWA I was told I could add the kit on later. Well, it is usually done at the factory, so for me to do it now I have to pull the unit out which will be a pain.

Reply from CellarPro:
Greg, actually, 1800 duct kits usually are done in the factory, but VS units do not require auxiliary fans (unless the ducting will extend beyond 50 equivalent feet per duct) and therefore their duct kits are installed easily in the field.
CellarPro 3200VSi Cooling Unit
Great unit - Bryan was a great help - made it very easy to order
Archie B.
Dallas, TX
8/4/2016
So far so good
So far can't find anything to complain about. Looks well made. They use stainless where other company's use steel that rusts. Excellent tech support for what questions we had. Jimmy was a great help with getting the right unit ordered. Look forward to doing business with them again.
Walter K
Santa Rosa, Ca
9/29/2015
Great product!
MJ Custom Homes
Canton, GA
1/22/2015
CellarPro 3200VSi
Customer service is outstanding, even during the ordering process to ensure that the option items ordered match the correct cooling unit.
Just Perfect!
got this cooler for our new wine cellar. Installed it outside the cellar, and used the cold side duct kit. Works like a charm. Keeping the cellar cooled at a constant temp, and love the display and bottle probe. Definitely recommend
Tom K.
Zionsville, IN
9/4/2014
Easy to install and working perfectly.
This unit replaced a Breezeaire unit that had only lasted 3 years before needing to be repaired. The Cellar Pro has maintained an accurate temperature. I especially like the external condensation drain as the Breezeaire drain was inside the cold storage. The unit fit perfectly in the previous cut out spot and has performed well after 3 weeks.
Leber Beall
Irving, Texas
9/4/2014
Excellent Support. Solid Shipping. Great Unit
Highly recommended! I started by placing an order for a different unit which would have been too small for my cellar... they worked with me right from the start, learned all about my cellar and helped me pick the right size unit. It came shipped, very well packaged and on a pallet. The unit has worked flawlessly since instaling. I use the bottle probe, works great. Outside the cellar: about 75F, 50% humidity Inside: 56F, 70% humidity dead on steady. The unit feels solid and looks well made. I think the unit is very quite. Easily can have a conversation in the same room, just a soft background woosh, and it's off most of the time anyway. If you're thinking of buying a unit, contact them first - they will work with you to pick the right size for your cellar size/conditions.
Lloyd Connelly
Portland, OR
9/4/2014
Sale Rep
Cooling unit was shipped on time and well boxed.
Brad Cupp
Richardson, Texas
9/4/2014
Good temperature control,, less than 1 degree variance
Purchased the unit to condition an extra room in the basement. (After insulating that room of course) Installation was easy and straightforward. I only needed assistance upon lifting the unit into the hole in the wall. The unit exhausts into the basement. I only saw moisture at the drain when the overall house humidity was very high and the house AC was not running. (Sounds like I have a small amount of house air getting into the cellar) I have a standalone probe connected to a wine bottle full of water. This probe is not connected to the cellarpro unit. With the unit set for an air temperature delta of 3 degrees, the actual liquid changes by less than one degree. That max/min was captured over several weeks, not within one day. This is one of the quietest units I have heard. Definitely a quality unit and I am very pleased with the results.
Fredrick Wentz
Ohio
8/12/2013
Unit cools well, shipped with defect, poor customer service,
Unit was shipped promptly after purchase. Packing materials were first rate and undamaged on delivery. My first impression was that it is heavy duty unit designed to last. After installing it and turning it on, water started leaking out of the bottom rear of the case within a few hours. It was never reaching drain pipe. I called customer service and described the problem. The response was that it was probably an installation problem (mine). I sent an email with photos and a detailed description of the installation. There was no response from customer support for 3 business days even after I left 2 follow up voicemails. I finally received an email response which basically asked if my installation was correct. Customer service only contacted me by email, never a phone call and my representative was never available at his extension. By this time, I had decided to open up the unit to see what the problem was. I discovered a manufacturing defect in the supply line between the evaporator drain pan and the condenser drain pan which was allowing water to enter the case and leak out the back. I took photos of the defect, repaired it myself and put it back in service. I decided to do this to avoid the cost to me of shipping the unit back and shipping a new unit to me as well as the time involved. Shipping is not covered by the standard warranty. I called one of the owners to discuss my problems, left a voicemail and received a call back the next day. I was told that this type of defect had never been seen before. So far, the unit is operating correctly with no leaks. Temperature and humidity control are very good. I cannot give them better than an average rating based on my experiences with build quality and customer service. I would recommend that you purchase the extended warranty which covers shipping and is only slightly more than the shipping costs of a single return.
Patrick
California
8/12/2013
Very Pleased
I just wanted to let you know that we have installed the unit that you sold us and that we are very pleased with the results and your service.
Russ W
Hampton Bays, NY
1/27/2013
3200vsi Big Step UP
My setup includes a 500Cubic foot sealed cellar, no glass, concrete, brick,sheetrock and soybased insulation and vapor barrier. The unit is exhausting into a conditioned crawl space with temperature in the high 70 range. This unit is replacing a whisperkool 3000xlt which lasted just at 5years but was just able to reach 55F and was constantly on. The cellarpro was a big step up at a better price comparing similar newer whisperkool units. Heavier but subtantially better made with superior controls. The whisperkool copper tubing wore out and developed a severe leak. Cellarpro apparently insulates their tubing as to prevent corrosion. Also after 2weeks the cellarpro is having no trouble keeping temps in the 4degree set window and i frequently find it not running more than it is! I purchased it based on communication with sales and had nothing but stellar support during my transition of cooling units. I also like the larger temperature differential it works in compared to other units. It doesnt seem like the unit is breaking a sweat. The only issue I have now is stabilizing humidity during cooler months so will see if I need to add a humidifier later.
Home owner
My previous two units were low-end. Thankfully, the CellarPro is a major move up. Quite robust with good temperature and humidity control. The fan control is most helpful when guests stay nearby. It can run very quietly when needed. At the high speed, it really moves the air.
Bill M
Houston, TX
10/7/2012
CellarPro 3200VSI
Unit has been running about 2 months - good temp control and impressed with air circulation modulation with and without compressor running that supports even temp within the cellar. Three fan control speeds is a plus for energy control and noise - with compressor noise very low. Controls give options for temp, range and energy savings mode that are adequate without being too complex. The ability to handle higher condensor temps is a real plus compared to competitive brands. I would recommend the product.
Rudy C
Sacramento, CA Area
5/7/2012
CellarPro 3200VSi Cooling Unit
Replaced a Breezaire unit that never kept the temp low enough. Had to work with this unit to get the temp right, but it's a more professional unit with digital info panel and more temp input options. Very quiet too. Quality equipment.
Ben W
Memphis, TN
2/12/2012
Very Impressed
I am very impressed with the build quality and the quiet operation.
David B
Weyanoke, LA
11/24/2011
CellarPro 3200VSi Cooling Unit
I bought this unit to replace a WhisperCool unit that had failed. I started looking at alternatives to WhisperCool because this is the second unit that failed, just outside the warranty. Part of the reason that the cost was significantly different is that WhisperCool Customer Service sells replacement units at quite a discount. After reading reviews, I found out why. My problem was not unique, but they give you a great price when your unit fails. In fact, though, I was never quite satisfied with how loud the WhisperCool unit was or that it did a great job at controlling the temperature. Initially, I was intrigued by the CellarPro features and specs, but I was a bit hesitant because I would need to make a change to the hole in my wall. While there are not a huge number of reviews, they are quite positive (and they did not say "Customer Service gave me a great price on a replacement unit!"). Then I called in and spoke to sales and, later, one of the owners. My interaction with them made me make the change. At first, I was surprised by high quality of what I received. This is a well built unit! All the mounting hardware was included and it was seriously robust! All-in-all, outside of the changes I needed to make to the wall, the installation went very smooth. The instructions are great, both for install and for operation. The only change I would recommend is that they include some precut moldings to put around the unit on the inside wall. The unit works great! It is so quiet that I find it hard to believe that the unit is actually on and need to open the door to my cellar to feel a gentle cool breeze (if it is running). The temperature is perfect. I've never measured the humidity, but it feels about right.
David Bulfer
San Francisco Bay Area
8/7/2011
CellarPro 3200VSi Cooling Unit
After researching wine cooling units, we decided on a CellarPro. Most reviews of other brands didn't sound encouraging. I had an opportunity to see and hear one of the other brands in action, it wasn't what I was looking for. It ran all the time and was very loud. Yes, the CellarPro is more money, but well worth it. It's been two weeks since I install the unit. The factory settings are keeping our 432 cubic ft. wine cellar at 56 degrees on the low fan speed settings. I've timed the run time cycle to just 3 minutes every 15 minutes, fan only. The condenser seems to only kick on once an hour for about 8 minutes. Although my wine room is in my pole barn you have to be standing in line with it to hear it running. As summer comes on I will be checking the run times to see how much it increases. I'm so glad that I spent the extra money and stepped up to a CellarPro.
Mike and Barbara Resler
Tigard, Oregon 6/29/11
6/29/2011
CellarPro 3200VSi Cooling Unit
I ordered this unit to replace a Breezaire WKL3000, due in large part to the lack of satisfactory customer service from Breezaire. I had ordered a replacement controller board from Breezaire, which was a $100 waste. My cellar was down, and conversations with their customer service department to work out an arrangement for a replacement unit were not helpful. After reading about Cellar Pro, I decided that they were the best option for three reasons. One was the perfect match to the space left vacant by the Breezaire unit. The second was the great customer service, and the third was the use of data to illustrate the performance of their units, along with great customer reviews. The unit installed and ran perfectly. For the first time, the unit cooling my cellar got down to temperature (55 F) and stayed there, without constant cooling need, as was required with the Breezaire unit. The CellarPro unit is more expensive than the Breezaire unit, but a true illustration of you get what you pay for, as applied to a quality product and customer service team. Outstanding.
Roy Bivens
Charlotte, NC
6/23/2011
CellarPro 3200 VSi Cooling Unit
Installed as recommended mid March 2011 in San Antonio, TX, and it has performed as advertised ever since. Our 700 Cu Ft Wine Room was initially about 75 deg. F. and was cooled down to 58 deg. F. within 10 hours as per the factory setting. We are using the bottle probe and the liquid temperature has averaged 60 deg.F. while operating approximately 75% of the time. We were able to reduce the fan speed to its low setting after 10 hours, and the operational sounds are very quiet. We feel that our investment in a CellarPro cooling unit has been well worth it knowing that our 800 plus bottles of champagne and wines now have a greater chance of preservation. We would recommend this quality product to anyone who wants to compare other wine coolers.
James Boykin
San Antonio, TX
4/7/2011
Good Warranty - Good Customer Service
My Cellar Pro suffered a failure after 4 years of running 24/7. Its a piece of machinery, they will fail after some time, right? I immediately ordered a new unit, which they expedited and it is working perfectly. I then sent my old unit in to be repaired, compressor in warranty. When it is returned I will have a standby when this unit ultimately suffers a failure. My cellar contains $50K dollars worth of wine. Why would I not have a unit standing by. If I lived next to Cellar Pro, I would not need the backup. But I live in 100+ Texas. These are great units, with people who stand behind them. Will they eventually fail, sure. So will my toaster, my car and my home air conditioner, etc. etc. If you want to cool your cellar professionally this is the unit. If you don't have the resource to cool your wine cellar and plan for a failure contingency, don't build one.
W.R. (Bob) Seeds
Midlothian, TX 214-802-7830
8/22/2008
Easy to Install
Runs great. Easy to install with ducting kit
David B
Englewood, FL
6/15/2007
Watch out for warranty issues
Our unit had a part fail, and CellarPro gave us the option to ship it back to them (we live in Indiana, CellarPro is in California) for warranty service or have a local refrigeration company fix it, either way under warranty. We opted to save the freight and have a local company do the work. A few weeks later, the bills are in. The part was $30 something; the labor from the local refrigeration company (they had to remove the unit from the wall) was $486. Now CellarPro tells us that while they cover labor when a customer ships the unit back to them, they DO NOT cover labor when a local refrigeration firm does the work. The evidently told the local refer company that, but they neglected to let us know before we made our decision, so we are out $486. My advice is, unless you are close enough to CellarPro to have them service the unit, seek cooling elsewhere.
Jay Hulbert
West Lafayette, Indiana
9/12/2006