CellarPro 4200VSx-ECX Wine Cooling Unit Exterior #1080




3938 SENSIBLE BTUH @ 55F.
CellarPro's 4200VSx-ECX cooling units (2/5 Ton Nominal) are engineered for external installations from 20F to 110F in residential and commercial wine cellars up to 1,000* cubic feet.

Performance testing shows that this unit maintains optimal cellar temperature and humidity conditions in extreme conditions more effectively than similar units from competing brands. 4200VSx-ECX units use energy-efficient EC fans and are significantly quieter than comparable units from other brands. Visit our Learning Center for data tables, performance charts and product comparisons among different brands.

* Assumes that the cellar is constructed with insulation of R19 or better in all walls and ceiling,a setpoint of 55F inside the cellar and ambient temperatures up to 85F outside the cellar. Cold-side ducting, glass and/or uninsulated walls, extreme humidity, altitude and other factors may affect the sizing calculation.

Please note: Our units were not designed for, and our warranty does not cover damage from, marine exposure (within 5 miles of the ocean). In these environments, you will need an applied coating, such as Insitu®, to protect against corrosion that is common in coastal regions.

Our cooling units are designed to be used in properly-constructed wine cellars that are adequately insulated, airtight and sealed with a vapor barrier. In improperly-constructed cellars, the cooling unit will create excess condensation, leading to damage and premature failure of your cooling unit (not covered by warranty).

(8)
Read / Add Reviews
Price: $4,150.00
Shipping Information:
LTL Truck / Curbside
Availability: In Stock


Usually Ships w/i 3-5 Days
Back in stock:
Free Shipping! Receive free curbside delivery in the lower 48 states for a limited time. Simply add to your cart and checkout.
CellarPro 4200VSx-ECX Cooling Unit (P/N 1080).
NOW WITH ENERGY-EFFICIENT EC FANS!
Designed for external installations, CellarPro engineered the 4200VSx-ECX cooling unit to provide maximum cooling power and adjustable humidity control for cellars up to 1,000 cubic feet. 4200VSx-ECX units are built with high-output Danfoss compressors and oversized coils for maximum performance in high-temperature environments up to 110F. These units also feature variable-speed fans with a low setting for super-quiet operation when conditions permit. Beginning with the 4200VSi cooling unit for interior installations, we've added to the 4200VSx-ECX an exterior weather hood, cold-temperature compressor heater, coated condenser coils, double-powdercoated exterior case, reusable aluminum filter and exterior-grade power cord.
All air-cooled refrigeration equipment requires fresh air intake to dissipate the heat generated by the cooling unit. The fresh air intake CANNOT come from the wine cellar space - it must come from space outside the cellar.
Now with energy-efficient EC Fans on both the cold and hot sides, save $191.58 in annual energy costs vs AC fans (assumes 75% runtime and $0.15/kWh)
This unit can be configured to operate in extreme temperature conditions (-20 to 110F), with the rear of the unit exposed to shaded external environments.
Dual high-output centrifugal fans come with variable speed settings for your choice of maximum cooling power at the high fan speed, or super-quiet operation (53.7 decibels) at the low fan speed.
Adjustable humidity control combines a high-output compressor with flexible fan cycles to maintain a recommended level of moisture inside your cellar.
Extra-large coils generate maximum cooling power inside the cellar.
Excess condensate is managed with a high-capacity stainless steel drain pan, welded 1/2" drain line and 200W electric heating element with "On/Off" Control.
Commercial-grade Electrofin coating protects the evaporator and condenser coils from leaks and corrosion.
Intuitive LED display panel mounted on the evaporator with digital programmable thermostat is simple and easy to use. Remote thermostat is available as an upgrade.
Energy-saver mode, quick-chill mode, and auto-defrost cycle provide convenient solutions to common cellar needs.
Temperature set point range is 47F to 62F when the cooling unit is properly sized.
Unit operates with minimal vibrations and less noise than comparable units from competitors.
Audible and visual alarms and maintenance-needed indicator protect the cooling unit and the wine cellar.
Common dedicated 15-amp circuit is required to power the unit.
With dual power sources and a 10-foot power cord, the unit can be plugged into a receptacle from either the front or the rear of the cooling unit, providing flexibility for most installations.
Our easy-access reusable aluminum air filter protects the condenser coils and increases the expected useful life of the cooling unit.
Adjustable mounting brackets, included as standard equipment, ensure easy installation.
Removable steel case and refrigerant access valve provides access to the internal components for servicing and repair.
CellarPro's 5-Year Standard Warranty, the most thorough in the industry, protects the unit against manufacturing defects.
An optional Extended Warranty (P/N 1836) is available for additional protection.
ETL Tested and Certified to rigorous UL Standards for safety.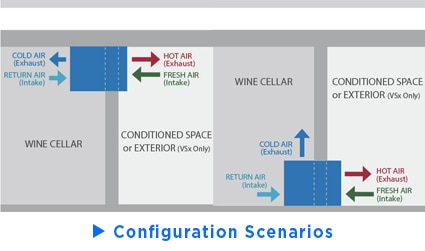 Configurations
CellarPro 4200VSx-ECX units are self-enclosed, fully-charged units designed to be installed through an external wall and sized to fit in between standard wall studs.
4200VSx-ECX units can be located remotely from the cellar with the addition of one of our front duct packages (however, the entire unit cannot be located in an external environment). Offered with or without insulated flex ducting, in a choice of configurations for low or high humidity conditions, our front duct packages allow these cooling units to be ducted up to 50 equivalent feet away from the cellar and requires 8-inch (or greater) ducting from start to finish.
When calculating equivalent feet, each 90-degree turn counts for 8 feet.
For remote or inaccessible installations, we offer a remote control display kit which is wired to the cooling unit and allows the digital display to be mounted inside or outside the cellar.
4200VSx-ECX units require fresh air intake at the rear of the cooling unit, and are designed to handle shaded environments ranging from 20F to 110F..
For installation in environments below 20F down to -20F, it will be necessary to add our Fan-Cycling Switch (P/N 6972).
The front of the cooling unit should never be exposed to temperatures below 32F.
A CellarPro cooling unit must always be used in the upright position, and should never be operated on its side or upside down.
We ship these units strapped to a pallet via common carrier with curbside delivery. Inside delivery is available for an additional charge.
Capacity:

3938 BTUH @ 55F

Size:

14 1/2w x 27 3/5d x 19 7/10h (in)

Weight:

149

lb

Power/Rating:115V AC / 60 Hz
Compressor Amps:
- Common dedicated 15-amp circuit is required to power the unit.
- Startup: 42.0 Amps
- Unit Amp Rating: 10.9 Amps (high fan speed)
- Total Watts: 578 (med fan speed)
BTUH @ 55F:
- Low Fan Speed: 3282
- Medium Fan Speed: 3617
- High Fan Speed: 3938
- 1/2 Ton Nominal
Warranty:
- Limited Warranty - 2 Years (Entire System) / 5 Years (Compressor)
- Optional Extended Warranty (sold separately).
SKU:

4200VSx

UPC:

077757010804

Click on one of the following links for more information:

Cold Temperature
Compressor Heater #1727: protects the unit when installed in environments that drop down to 20F - INCLUDED.
Fan Cycling Switch #6972: supports the unit in temperatures below 20F and as low as -20F when combined with our compressor heater.

Duct Hoods
Duct Hoods (Cold Side) (#7408 for low-humidity environments or #7427 for high-humidity environments) and Kits (#1476 for low-humidity environments or #7426 for high-humidity environments): permits the cooling unit to be located remotely, up to 50 equivalent feet away from the cellar.
Duct Kits are the same as Duct Hoods, and also include 2 x 25-feet of 8-inch insulated (R-6) flex ducting.

Filters & Grills
Use our filter & grill guide to find the cooling unit filter or duct filter and/or duct grill that is appropriate for your cooling unit.

Remote Thermostats, Displays & ProbesDID YOU KNOW?
Nobody protects your wine cellar better than CellarPro Cooling Systems! In the event your cooling unit fails and the failed components are covered by our warranty, we'll send a replacement cooling unit to you per the terms of our
Replacement Unit Program
CellarPro Replacement Unit Program
If your CellarPro cooling unit fails and the parts that failed are still covered by warranty, we'll send a replacement cooling unit to you, as follows:
Your cooling unit must be registered at CellarPro
Your cooling unit must have been properly sized, installed and maintained
Your cooling unit may not have been permanently modified, damaged or disfigured
Please note:
Replacement units are factory-refurbished cooling units with a similar build date as your original unit
You are responsible for the shipping cost to send the replacement unit to you and return the original unit to us, and the cost (if any) to remove the original unit and install the replacement unit
In order to send a replacement unit, we require a deposit, which will be refunded minus shipping costs upon the return and pending the inspection of the original unit
If the original unit failed due to improper intallation or use, the failure is not covered by warranty and we will deduct the cost of the repairs from the refund of your deposit
What is "Sensible BTUH"?

A: You should always use Sensible BTUH* when comparing different brands of cooling units, and when sizing a cooling unit for your wine cellar. Every cooling unit produces a certain amount of Total BTUH, which is the sum of Sensible BTUH (lowers the temperature) and Latent BTUH (lowers the relative humidity). Because our goal is to cool wine cellars while preserving humidity, wine cellar cooling units should have high Sensible BTUH and low Latent BTUH. The relationship between Sensible and Latent BTUHs is know as SHR (Sensible Heat Ratio), which is calculated as Sensible BTUH/Total BTUH. The SHR for CellarPro cooling units is greater than 90%, which means that CellarPro units provide maximum cooling power without stripping out humidity from the cellar environment.

*CellarPro Sensible BTUHs are calculated assuming 55F cellar temperature, 60% relative humidity and 95F ambient for all units except 1800 units (85F ambient).

How cold can the temperature be where the cooling unit is installed?

A: For installations in environments below 20°F, we recommend our fan cycling switch (P/N 6972)

Can the cooling unit be located in a remote location and ducted to/from the wine cellar?

A: These cooling units can be ducted up to 50 equivalent feet away from the wine cellar when used with our cold-side (front) duct hoods and kits. Remember that cold-side ducting must be insulated and additional load should be added to properly size the required cooling unit.

Does the unit really need a dedicated circuit?

A: First, the background. Unlike our competitors, we build our cooling units with precision expansion valves, not cap tubes, which means that our cooling units aren't limited to a 30°F differential between the desired cellar temperature and the ambient temperature. Cooling systems with expansion valves are much more precise than cap tubes, and much more sensitive to low voltage conditions, which is why our units require dedicated circuits. When we say "dedicated circuit", we mean that the circuit shouldn't have any items that require heavy draws of electricity - eg other appliances, vacuum cleaners, big-screen TVs, blow-dryers - on the same circuit as the cooling unit. Lighting, computers or other low-draw items shouldn't be a problem on the same circuit.

Why does it say it can be installed in a "shaded" external environment?

A: The intake temperature on the hot side of the cooling unit can handle temperatures up to 110F. When the exterior hood is in the direct sun, the hood can heat up like an oven, and temperatures quickly can exceed 110F. Therefore, the exterior hood should not be installed with direct exposure to the sun.

Can I install the entire unit inside the cellar?

A: If you want to install the entire unit inside the cellar, you should not purchase this unit, which is designed for exterior exposure. Instead, you should purchase the interior version, which can be installed completely inside the wine cellar when used with our hot-side (rear) duct hoods and kits, which allow rear supply and return airflows from a temperature controlled environment OUTSIDE the cellar to be ducted (with insulated ducting to minimize heat transfer inside the cellar) up to 100 equivalent feet (50 feet per duct).

If I don't have sufficient space behind the cooling unit, is that Ok?

A: The rear of the cooling unit generates hot air that must have sufficient space to dissipate, otherwise the unit will recycle its own hot air.

Can I use the low fan speed setting on the cooling unit when the unit is ducted?

A: Duct hoods and kits create additional static pressure and therefore require the use of the high fan speed to overcome the additional static pressure.
cellar pro 4200svx
Stephen R. Bozec Jr
Henderson,nV
2/18/2020
Great service
The whole experience from the purchase to the install was really smooth, thanks guys.
Malcolm A&S Mechanical
Hidden Valley California
5/22/2018
Good system
Would highly recommend CellerPro units. Purchased a 4200 VSx unit and it works fine with no issues! Had two Breezeaire units and wasn't happy with either!
Dick W
Folsom, Ca
5/27/2016
CellerPro Wine Room Cooler
Very Impressed with extreme temperatures outside in Nebraska how well this unit has maintained as set and how easy the install.
Bruce B
Lincoln NE
8/3/2015
Bad piece of machinery
Garbage, been through 3 of them now and the Alarm started going off this morning. They dont last and the company is useless. I had to educate there "engineers" on how compressors work in order for them to send me a new one. This "new compressor" has worked for 2.7 months and now alarms are going off. This was after replacing the control panel and the compressor and starter. Bad piece of machinery.

Reply from CellarPro
Eric, our records indicate that you've only purchased one unit from us, back in 2012. Regarding your cooling unit, as we communicated to you in numerous emails, the HA2 alarm indicates that the cooling unit is overheating, which most likely was caused because you didn't clean the coils. Unfortunately, our cooling units require fresh air in order to operate, and the compressor eventually will burn out without sufficient airflow. You have refused our assistance in troubleshooting your unit, and have demanded that we ship replacement parts blindly - yet you're blaming us when the replacement parts have failed.
Eric G
Hollister Ca.
9/4/2014
great so far
This CellarPro 4200vsx is my first wine cooling unit after going through a couple of wine refrigerators. We moved into a new house and created a cellar, so we needed the step up. After much research, I settled on this unit principally because we needed venting to the outside. It's been less than a year, but the unit has been fantastic so far. It cooled the room quickly and maintains a good constant temperature. It's not very noisy. It's easy to adjust temperature and fan speed. Installation was a bit more involved than expected, but nothing crazy. Overall, I highly recommend it.
so far so good
After my 2nd Breezeaire 4000 failed (each in 2 yrs.), the 2nd time turning into a heater and trying to cook my cellar, I purchased a CellarPro 4200vsx. Confronting the potential $ value loss of a cellar made stepping up to the more expensive CellarPro an easy decision. Easy installation, fit in the same hole. No drama, just started working. Fairly quiet. Actually looks designed for external venting. Three mounting position choices allowed me to have less cooler in the cellar and avoid a shelf. All good.
Bill Gibbs
Moorpark, CA
10/7/2010
Great unit
We had 2 Whispercool units which were terrible and loud. We had them fixed and they still never really worked. Finally we brought in 2 of these CellarPros and they are incredible. Quiet and efficient. One had our 2500cu ft room cool even before the second was installed.
MB
Mill Valley, CA
6/16/2010